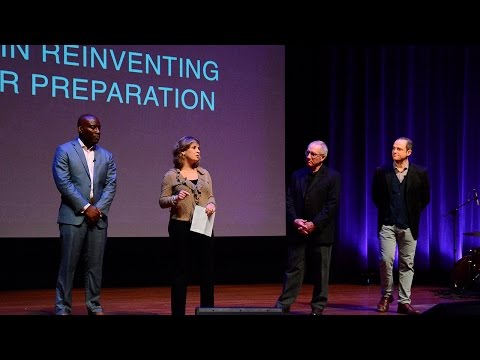 NYU Steinhardt, the country's oldest university-based school of pedagogy, today announced plans for a new residency-based teacher education program that will deliver its courses 100 percent online. Pending state approval, the proposed program – designed specifically for teacher residencies – would enable students to earn a graduate degree by combining online coursework with immersive on-site experiences in high-needs schools.
Amid increasing numbers of new teachers reporting a lack of adequate preparation and staggering attrition rates, the nationwide teacher shortage is especially affecting children in urban communities. In enacting the new Every Student Succeeds Act into law, President Obama and Congress have indicated they seek to address this crisis in part by improving flexibility for local education agencies to better serve students with alternative models and approaches.
Teacher residency programs combine a year of full-time experience in a classroom with rigorous graduate coursework. But unlike in other professions, such as medicine or law, the residency model is exceptionally rare in education.  According to the U.S. Department of Education, only five percent of aspiring teachers are currently preparing to enter the profession through university-supported alternative programs, including teacher residencies.
"Research shows that the strongest way to prepare effective teachers is through immersive experiences in schools, but too few teachers are trained this way," said Dominic Brewer, the Gale and Ira Drukier Dean of NYU Steinhardt School of Culture, Education, and Human Development.  "Our proposed program is the first significant attempt by a major research university to create a national model that departs from the traditional pathway of teacher education while leveraging state-of-the-art data analytics, working flexibly across states and districts, and embedding candidates in real-world classrooms."
The proposed Steinhardt program will use intensive academic modules closely paired with structured and immersive full-time residency experiences. Students ("resident interns") will be supported and mentored by NYU faculty as they build skills and competencies, and will gradually gain responsibilities in the classroom through a "gradual release model."
NYU Steinhardt will use Silicon Valley-based HotChalk's technology platform, including an online video observation and collaboration tool provided by the New Orleans-based startup Torsh, Inc., to enable rigorous analytics designed to support, term after term, a continuous cycle of measuring, learning, and adapting to improve educational outcomes for students and teachers alike.
HotChalk CEO Edward Fields said, "We are proud to support an outstanding institution with such a clear vision and commitment to educational outcomes. This is exactly what the HotChalk platform is designed to do: create a scalable, data-driven environment for learning that can be tailored and adapted over time and in real time to drive success across different geographies and schools. Now more than ever, teachers matter, and we especially need brand new teachers to be excellent on day one."
More details about the program:
The new platform will allow NYU Steinhardt faculty to observe classroom instruction at a distance and work one-on-one with the students to hone their teaching skills.
The clinical work requires full-time, school-embedded placement in an urban, high-needs public school (but not as teachers of record; rather, resident interns will gradually gain responsibility in the classroom.)
Content will include teaching emergent bilingual learners, special education, education technology, literacy instruction, multimodal learning all integrated with disciplinary content expertise in secondary math, secondary science, secondary English, and secondary social studies.
The program is designed to be completed in one year.
The learning goals of the program are tied to the Danielson Domains and to the University of Michigan/Deborah Ball/Teachingworks High Leverage Practices.
For more information on becoming a school district or charter network partner, contact rachel.harrison@nyu.edu.