NYU was the meeting place for National Education Week, an annual ed tech festival, held December 15 – 17.  The conference brought together Startups, CEOS, investors, and members of the education community for conversations on issues and opportunities in education.
NYU Steinhardt Dean Dominic Brewer (at right) introduced the two-day event co-sponsored by EDGE, an education technology incubator company.  Brewer noted that NYU's status as a diverse, entrepreneurial, urban research university made the conference a perfect location for fostering new partnerships and exchanging best practices in education.
"In many ways much of the DNA of educational technology is on this very block," Brewer said.  "It was here, at NYU, that painting and sculpture professor Samuel Morse perfected the telegraph and an NYU Medical School founder, John William Draper, modernized photography."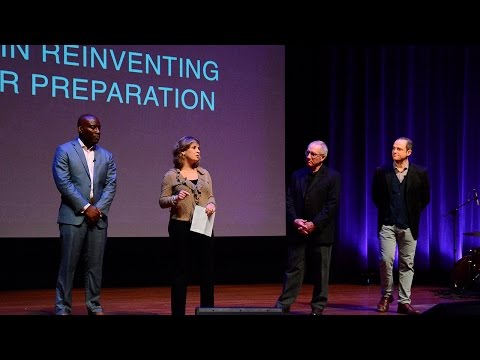 During the event, Steinhardt's technology partners, Joe Ross, Chief Strategy officer of HotChalk, and Courtney Williams, CEO of Torsh, Inc., joined faculty members Joseph McDonald and Diana Turk on stage for an announcement about Steinhart's new residency-based online teacher education program.   The program will allow students to earn a graduate degree by combining online coursework with immersive on-site experiences in high-needs schools.
The National Education Week conference was hosted by Edge CEO Jonathan Harber, who noted the need for an "ecosystem for education innovation."
"Much like Sillicon Valley has created an ecosystem for technology, we need to connect entrepreneurs, investors, policy makers, educators, companies, and thought leaders," Harber said.
Also presenting were:  New York City School's Chancellor Carmen Fariña (Steinhardt '65), Steinhardt faculty member Alex Ruthmann, a designer of music-learning technologies, and Professor Jan Plass whose work explores how gaming and digital media can impact learning. Bridget O'Connor, a professor of higher education and business education, participated in a panel titled, "Learning for and at Work."
(Photos:  Steinhardt Dean Dominic Brewer; left to right:  Courtney Williams, Diana Turk, Joseph McDonald, and Joe Ross;  Carmen Fariña, photo credit:  Debra Weinstein/NYU Steinhardt.)